NYKTAS GEORGE
By a unanimous decision, the BMW Riders Association Board of Directors has voted to give nurses and first responders free admission to the club's 2020 National Rally as a way of thanking them for their efforts in dealing with the COVID-19 pandemic. "Board member Al Olme came up with the idea," says BMW RA President Sibley Poland, "and the rest of the board quickly got behind it." For his part, Al Olme says, "BMW Riders Association members are a tight and friendly community and appreciate the efforts of everyone involved in treating people stricken with COVID-19. Some of our members, after all, are nurses and first responders and we'd like to honor their service."
First Responders who worked on the COVID-19 pandemic will need to register for the rally and bring their work ID card with them to the rally. When checking out, use the coupon code "firstresponder2020" in the shopping cart.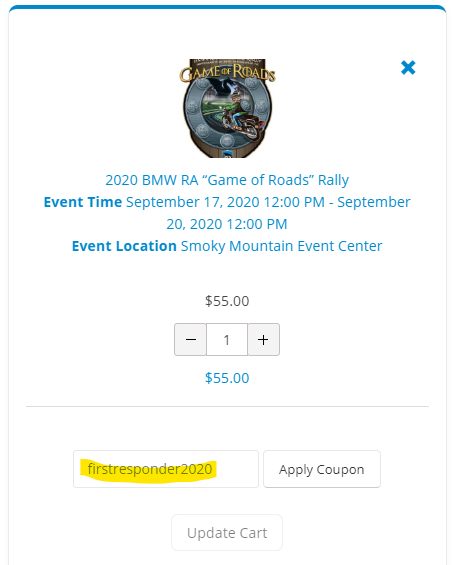 Thank you, First Responders! Click here to Register for the rally!
To learn more about the rally, click here.
Definition: A first responder is a person with specialized training who is among the first to arrive and provide assistance at the scene of an emergency, such as an accident, natural disaster, or terrorism. Included persons would be FireFighters, EMS Crew, ER nurses, on-call doctors who attended to victims of Covid-19. We are restricting the offer to those who were on the front lines of the pandemic as a reward for their bravery. To all others we thank you but be mindful of the intent of this offer to reward those who risked their lives to help others. Credential will be required at check in.
NOTE: Please remember to bring your ID card to the rally. If you do not bring ID, you will be charged for entry.
The BMW Riders Association 2020 "Game of Roads" National Rally will be held September 17-20 at the Smoky Mountain Event Center in Waynesville, North Carolina. For more information and to register, visit www.bmwra.org/2020nationalrally.
The BMW Riders Association (BMW RA) is one of the largest and oldest BMW motorcycle clubs in the United States, with members from around the country and beyond. A member-supported and mostly-volunteer organization, the BMW RA fosters a spirit of fun, community, and adventure among its members. Visit www.BMWRA.org to join and for more information.