BMWRA Staff
For many years, rallygoers have had an opportunity to hone next-level skills via training by the renowned BMW U.S. Rider Academy. This September 14-17 in West Virginia is no exception! An RA member and BMW Performance Center instructor gives us the scoop.
by Jason Weilnau
Escape to the BMW RA 2023 "Wild and Wonderful" National Rally
There's a big national rally at Canaan Valley Resort in Davis, WV, on the horizon and I really hope to see you there. Rallies are about having fun on our motorcycle with a gaggle of friends on their motorcycles. There's no better way to meet people and to develop lifelong friendships than at a national rally. By attending your organization's local and national rallies, you are supporting its cause and ensuring that the organization will be there for the next generation of riders.
My family enjoys making a mini vacation out of rallies. We find that the longest way to get there is the best. Finding great curvy twisty roads helps us beat the boring interstates and allows us to visit unique small towns. We love to find scenic vistas or parks so that getting to the rally becomes an adventure in itself. We seek out historical landmarks along our route to add some additional culture to our journey. What better way to make long lasting memories with your children, young or old, than a moto trip! While at the rally, you can venture off on day trips to find great twisty roads, off-road trails, scenic parks, or more historical landmarks.
BMW U.S. Rider Academy training and guided rides
Join me at the rally and get a taste of the motorcycle instruction and training offered via the U.S. Rider Academy at the BMW Performance Center in Greer, SC. The Academy is known for professional instruction from professional instructors. While at the rally you can get a firsthand taste of how we instruct our curriculum.
For me personally, the next best thing to instruction on site at the Center is bringing the show on the road to rallies across the country. We're able to attend several rallies around the country each year to show off our great program. BMW also allows us to provide up to a 20% discount on all our classes if you sign up at the rally.
While at the BMWRA event in September, we will offer many on-road and off-road training clinics on a course that we set up. We start with some exercises that focus on the foundational aspects of control proficiency to manage your speed and balance to properly operate your motorcycle. That will be followed with a steering exercise to get you comfortable with navigating your trusty steed at a slow speed. These exercises set the foundation to teach you how to transition from a rider to an operator.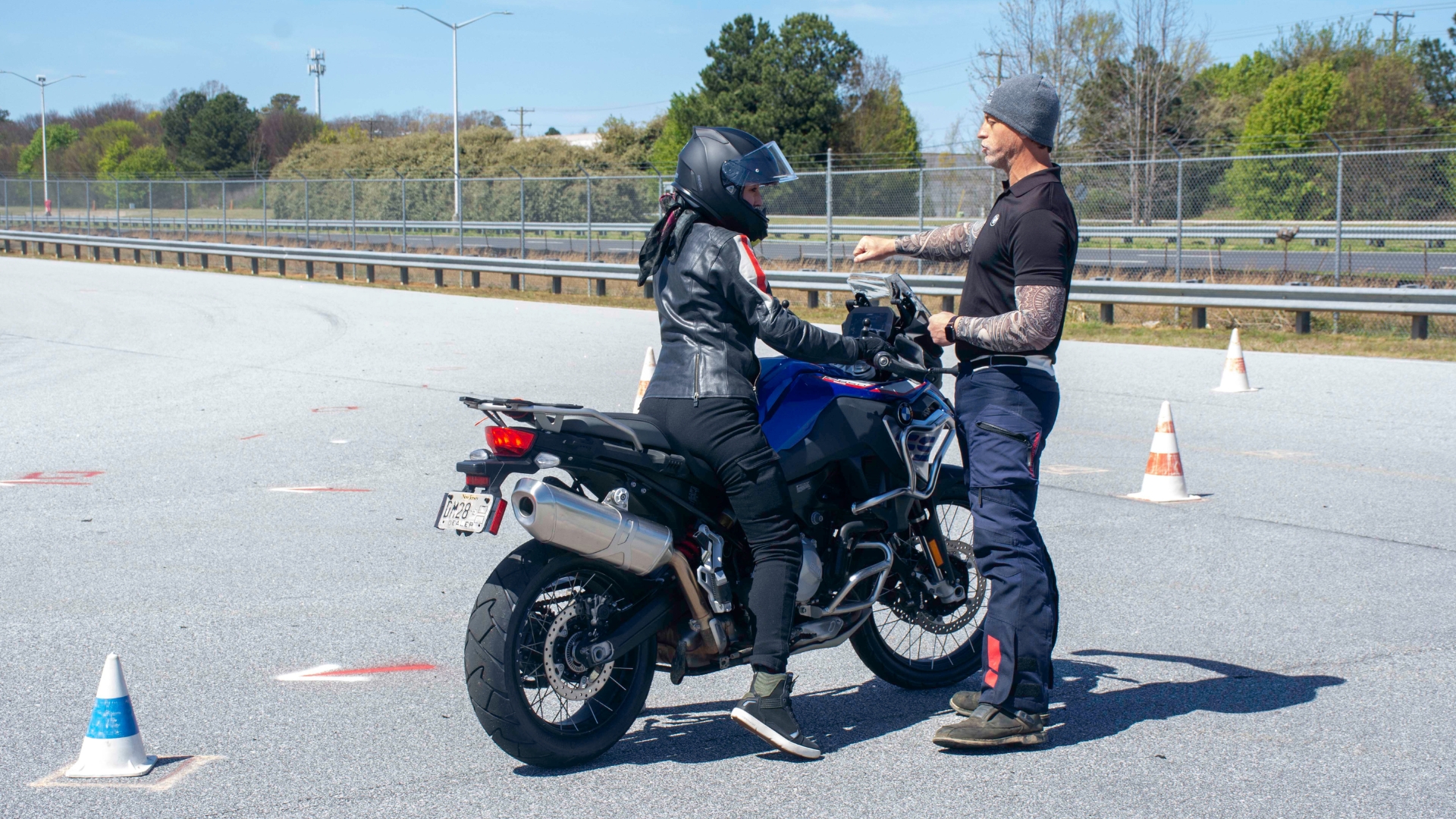 You may also sign up to ride with U.S. Rider Academy instructors on either an all-paved tour or an off-road tour. Nothing brings people together and creates new friendships better than motorcycling! All tours are guided and each will have at least two instructors, one lead and one sweeper bringing up the rear. We encourage each participant to ride their ride to ensure each rider returns home safely. Each tour will last 60-120 minutes, depending on the routes.
SCHEDULE: SEPTEMBER 14-16, 2023
There are additional fees for BMW U.S. Rider Academy clinics and guided rides.
Online registration required at bmwra.org/rally23-academy.
THURSDAY, September 14
1-4pm | On-Road Clinic | 8 slots | $75
1-4pm | Off-Road Clinic | 8 slots | $75
FRIDAY and SATURDAY, September 15-16
9am-noon | On-Road Clinic | 8 slots | $75
9am-noon | Off-Road Clinic | 8 slots | $75
1:30 | Guided Ride – On-Road | 10 slots | $25
1:30 | Guided Ride – Off-Road | 10 slots | $25
3:30 | Guided Ride – On-Road | 10 slots | $25
3:30 | Guided Ride – Off-Road | 10 slots | $25
Additional info about the U.S. Rider Academy in Greer, SC
If you enjoy the training you experience at the rally, you might want to consider taking the full course version onsite. BMW offers their onsite classes on a 130+ acre property that includes a multi million-dollar facility meticulously designed, maintained, and updated. The on-road classes are on a large open paved pad without any obstacles or on a professional handling track, depending on the course. The off-road class is located around the vast property with multiple course elements and single-track trails that are utilized for the program.
It's best described as a combination of amusement park and a college for motorcyclists!
One key element that BMW offers is the latest models of motorcycles available for its customers. The program offers the classes on the entire GS lineup—the G 310 GS, F 750 GS, F 850 GS, and R 1250 GS. You can choose Adventure Models and Low Suspension Models as well. The reason the school uses the GS models is because the crash protection is put to great use. The U.S. Rider Academy is the only school that I'm aware of that offers customers a liability-free experience when utilizing their motorcycles. That means that if you break anything on the motorcycle, you are not liable for those damages. BMW wants you to focus on the training aspect of the program without worrying about damaging the product.
BMW also offers private one-on-one training, corporate team building training, one-day tours, multi-state tours, and an International Italy Tour. The Performance Center is best described as a combination of amusement park and a college for motorcyclists.
---