PARKER CHRISTOPHER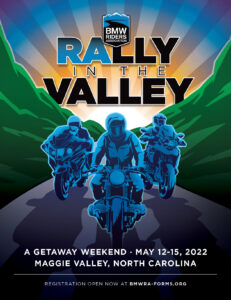 BMW RA Rally in the Valley
May 12-15, 2022
(Thursday through Sunday)
To skip directly to registration, click here!
Join your fellow RA club members and other like-minded motorcyclists for an exciting weekend getaway at the wonderful Meadowlark Motel in historic Maggie Valley, North Carolina, the gateway to the Smokies!
This wonderfully updated mid-century motor court motel is an ideal basecamp for adventure in the mountains! Overflow motels within walking distance of the Meadowlark will also be made available for the rally. The motel has open fire pits, plenty of parking and an open-air bar on the property.
Call the Meadowlark Motel to reserve a room, cabin, or cottage. Use our special reservation line 828-926-1717 and ask for your BMWRA discount using the code "bmwra22". When all rooms are booked at the Meadowlark, they will tell you about other close by motels that will honor the discount.
Your registration includes:
Continental breakfast for all attendees at Meadowlark Motel (regardless of which motel you are staying in).
Dinner on Friday evening, May 13
BBQ with two sides, water, or soft drinks and two tickets for beer.  Additional beer tickets will be available for sale. There will be DJ entertainment Friday evening.
Dinner on Saturday night, May 14
Dine at a local landmark, J. Arthur's (directly across from Meadowlark Motel). You have the option of three meals, selected at time of registration. Choices are: 10 oz Ribeye with potato option and salad [this is the gluten free option]; Bourbon pecan encrusted chicken with mashed potatoes and salad; Grilled salmon served over sautéed spinach, topped with lemon butter and capers with potato option and salad. Dinners include iced tea, soft drinks, or coffee. Alcohol and desserts are available at additional cost.
Live music on Saturday night featuring Mike Ogletree, Scottish guitar player and former member of the band Simple Minds (yes, THAT Simple Minds of "Don't You Forget About Me" from the movie The Breakfast Club).
Author of The Motorcycle Adventure Guidebooks series and comedian Hawk Hagebak will be performing that night as well.
Several vendors will be donating raffle prizes that evening.
Also featured during the weekend will be Wayne Busch of America Rides Maps, on hand to discuss his product and be around to suggest routes for attendees that they might not be aware of.
Registration is open here. Early bird registration is $75.00 for BMW RA members and $85.00 for non-BMW RA members. After March 1, registration will be $85.00 for all registrants.
Logo event shirts are available for pre-order only at $22.00. Pick your size on the registration form.
Reserve your room now by calling the Meadowlark Motel at 828-926-1717 and be sure to mention the code "bmwra22" for a discount on accommodations.
We hope to see you all there for a weekend full of meeting old and new friends, camaraderie and riding great roads!
The National Rally is still being held in Waynesville, NC September 28 -October 2, 2022.